I realize that spring has barely shown it's face here in Calgary. Is it too soon to talk about fall if the leaves are just beginning to unfold in your yard? Yes, probably. In spite of this, I know that there are ladies out there looking for fall bridal inspiration right now. I'm a little behind on blogging so I'm just now getting around to sharing all of this autumn goodness. We shot it at one of my favourite little spots in Nose Hill Park. Feast your eyes!
Hayley Paige for a fall bride
You never know what autumn in the Rockies will be like. Here in Calgary, we have our moments full of beautiful fall shades but also our share of snowflakes. On this day, autumn won out. Our bride Evan was breathtaking in the Bowie gown by Hayley Paige. I love the touch of denim with the cascading tulle skirt and fall foliage. Jaime from Fleurish Flower Shop outdid herself with this fragrant mix of blooms including Roses, Hanging Amaranthus, Astrantia and Eucalyptus.
Cameo & Cufflinks is THE place to find Hayley Paige in Calgary. They are located at Unit 102, 1324 11th Ave SW and are currently booking by appointment only, to align with COVID-19 guidelines. Reach out to their staff by clicking here.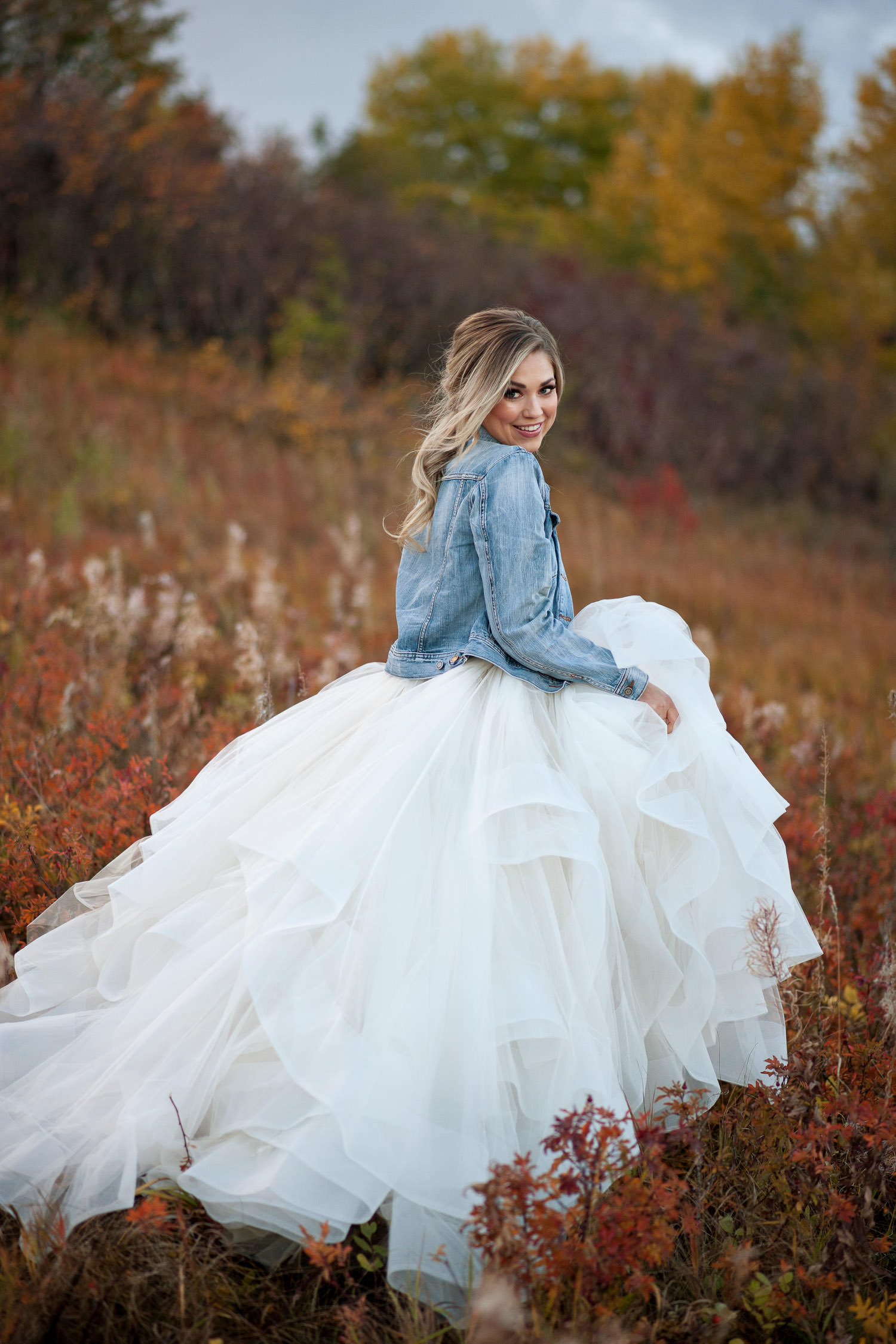 Thank you to the talented vendor team:
Bridal gown: Hayley Paige from Cameo & Cufflinks
Hair and make-up: Something Borrowed Beauty
Jewelry: Joanna Bisley Designs
Bouquet: Fleurish Flower Shop
Bride: Evan Brown
Here's a beautiful fall engagement session in Kananaskis Country, if you'd like to see. Barrier Lake is another great location for engagement sessions in autumn.
Fall bridal inspiration captured by Calgary Wedding Photographer – Tara Whittaker