To kick off 2018, I asked a few of my couples to jot down their best wedding advice and they really came through. I know there are a lot of newly-engaged couples out there with sparkly diamonds and this post is just for you. You'll want to read right to the end because one Mother-of-the-bride Gisele, shares her thoughts as well. It's a must read.
Ashley & Steve
If I had any tip for any bride out there, it would be to let all the small stuff go. Your day will be wonderful no matter what. As long as you're in the moment and drinking it all in, it will be perfect!
Best wedding advice from Michelle & BJ
Michelle and BJ eloped at Tunnel Mountain Reservoir in Banff and loved every minute of it.
My ultimate tip for brides who are planning is to do whatever you want for your wedding and don't hold back. Bouncing off wedding ideas with other engaged girls made it more confusing. I felt self-conscious wondering what others would think. People will have their opinions on your wedding plans, but the most important thing for me was focusing on what I wanted. This is your day, you should be able to enjoy it.
We tried to keep our itinerary as stress-free as possible. Our ceremony started later in the afternoon and this allowed us time to pick up flowers and get my hair and makeup done. In the end, we were well rested and relaxed in the jacuzzi all morning.
Ideally, I wished we had both a photographer and videographer for our day. We ended up choosing against a videographer just to save a little for our budget.
Chelsea & Gary
Chelsea and Gary said "I Do" on the shores of Barrier Lake in Kananaskis Country.
Be prepared to deal with some seriously unexpected situations. Try to make the best of them. At the very least, you'll have memories that last a lifetime.
Shelley & Brian's best wedding advice
For their early spring wedding, we took Shelley & Brian's portraits on the shore of Glenmore Reservoir.
Plan your wedding the way you want it. This is your day after all. We recommend delegating as many last minute wedding day responsibilities to others as possible. Find one or two people whom you trust to take charge.
Spend the money on a good professional photographer. That being said, even the best photographer can't be everywhere so ask a few of your guests to take pictures throughout the day as well. Just think of all the candid moments you might miss otherwise. When you're off getting portraits done, bring snacks and water. You probably haven't eaten anything since early that morning and food is farther away than you think.
Best wedding advice from a MOB
Gisele's daughter Steph married Sean at Rundleview Parkette in Canmore in 2016. The day was nothing short of magical and the planning process was somewhat unique, because Steph was working abroad throughout the process. Thank you to Gisele for sharing her thoughts on helping Steph plan the wedding of her dreams.
What was your favourite moment on Steph's wedding day?


My favourite moment was watching my husband, Kim (Steph's dad), walk her down the aisle. Secondly, Steph and Sean's choreographed first dance was amazing!
See more from
Steph and Sean's wedding here
, including their first dance at
Cornerstone Theatre
.
What was something about the wedding that turned out so well you think everyone should do it?
Steph and Sean allowed the beauty of the mountain backdrop to be the "altar" where they said their vows.
Is there anything you would do differently?
We would definitley have a receiving line right after the ceremony and then go take pictures. Everyone wants to say hello to the Bride and Groom right away. Kim and I also wanted to greet people and thank them for coming to the wedding.
Any tips on planning a wedding from afar?
Stephanie had a very clear vision for her wedding day and I saw my job as the one who would ensure that her vision became a reality. I took on the role of wedding planner and made sure everything was taken care of while Steph was away. When she got home 8 weeks before her wedding, she took control of the things she wanted to and I did the rest. We were a great mother/daughter team.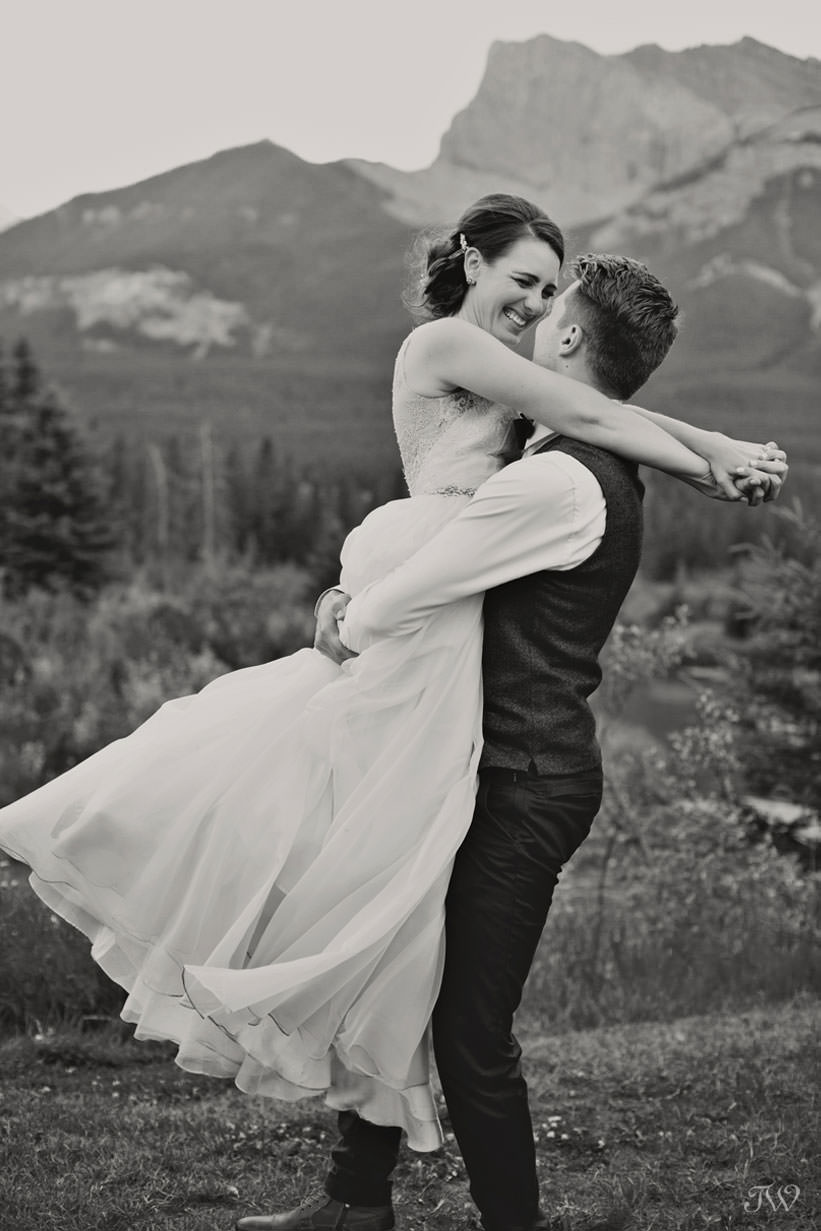 Any tips for other Moms?
My advice would be to make it all about your daughter. To me, it was Steph's special day and I wanted to make sure that every little detail was perfect for her. She loved everything about her wedding day. It was a beautiful wedding in a stunning location and a super fun dinner and party. Finally, the flow of the day for the guests was a priority for Steph and Sean. Everything they planned in the day was to "host" their guests and make it a special day for them as well.
Thank you everyone for sharing your thoughts. Here's a wedding
tips and tricks
post from a few years ago, if you'd like to see.