Justine and Geoff's Alloy Restaurant wedding in Calgary was a real treat and I'm excited to share it with you. These two are so full of life and love and you see it on their faces throughout the day (and in their dance moves too). Grab yourself a cup of coffee and feast your eyes.
From the bride
August 11, 2018 will go down in history as my all-time favorite day. I think I rode that post-wedding high for an entire month after the big day! It's hard to believe it's been three months since I ditched my hard to pronounce last name and began this journey as a Mrs. Looking back at our wedding day, it is hard to pick out just one moment that I would classify as "my favorite". I seriously wouldn't change a single thing about the day (perhaps the champagne bottle that sprayed my bridesmaids).
The dancing portion of the evening really stands out in my memories. My husband and I LOVE to dance. It was one of the first things that attracted me to him. He is fearless to get in the middle of the dance floor and show off his best moves. On our wedding night, Geoff bent down to remove my garter for the esteemed garter toss. He whispered in my ear that he just felt his pants split. Obviously, this did not stop him from giving it his all on the dance floor. He gave it his all until the lights came on in the venue and the entire crowd insistently chanted at the DJ to play "one more song".
From the groom
When I look back on August 11, 2018, one thing comes to mind – can we do it again!
From the morning getting ready with my closest friends, the anticipation of driving to the church, seeing all of my family and friends ahead of time, hearing our musicians warm up while being held backstage, and then finally seeing my bride. All of these things were just such an incredible experience. Then there was the dinner and afterparty!
It is quite difficult to isolate just one favorite moment. I think my favorite part overall, was witnessing all of Justine's hard work throughout the entire day. From the smaller details of place settings, custom menus, and candles to the restaurant as a whole. There wasn't a detail that was spared or overlooked and her effort on the day was seen by everyone that attended. It was truly a magical day and I owe it all to her. The best part was seeing her so truly happy and stress free – and enjoying the day as it was meant to be! I am truly lucky to be married to the all-time best planner!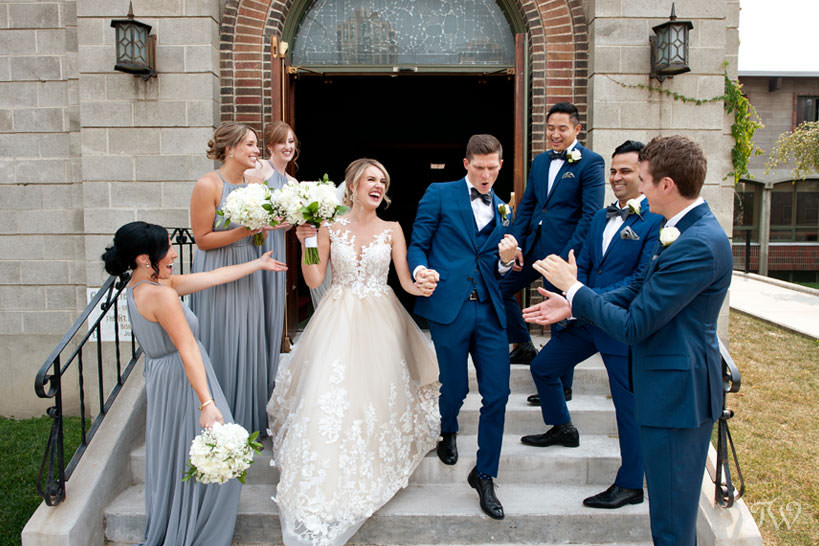 Tips from Justine
My number one tip for brides planning their big day would be to tackle things early. Don't feel as if you have to follow any established "timelines" for when its appropriate to get things done. I felt extremely relaxed for the entire week before my wedding as I had worked through all potential problems and tasks weeks before. Make lists and discuss potential issues that could arise with someone who has been down the bridal road before. It is impossible for the entire day to go exactly as planned, but if you're proactive in anticipating these issues, it will be a much smoother ride!
Geoff's tips
My number one tip as a groom, is say yes to everything your bride recommends. Only kidding and all jokes aside, I think my tip would be to consider adding videography if your budget permits. We absolutely adored all our photos from Tara (she is incredible) and having the video behind the pictures is simply a great paring. The speeches from family and friends at our reception were unbelievable and the video really enabled us to relive and remember all of the wonderful things that were said (not to mention her dad's 15-minute-Youtube-worthy speech) that we will relive for the rest of our lives!
Many thanks to Justine and Geoff for sharing their memories and tips from the day. It always makes a post like this so much more personal. Here's their fall engagement session at Big Hill Springs Provincial Park if you'd like to see.
Ceremony Venue: St. Stephen's Anglican Church
Reception Venue: Alloy
Wedding Planning: 206 Event Co.
Dress Designer: Milla Nova
Hair & Make-up: Top Knot Brides
Bridal Boutique: Bailando Boutique
Bridesmaid's gowns: David's Bridal
Florist: Dee Vine Petals
Videographer: Alexander Documentarian
Alloy Restaurant wedding captured by Calgary Wedding Photographer – Tara Whittaker