It's true, I've witnessed my fair share of weddings.  They are just all the more special when the wedding officiant has made an effort to get to know the couple and create a unique service for them.  Enter marriage commissioner Jacqueline Hoare.  Today I'm happy to share some insight into this wonderful lady, full of personality and insight.
From Jacquie…
I Love LOVE and I am very passionate about celebrating the lives people live.  In the last eight years, I have had the privilege of performing hundreds of wedding ceremonies.  My goal is to create a meaningful ceremony with heart and humour. I want my couples to walk away feeling like they have been swept up in a total experience, which they, their family and friends will cherish and remember forever.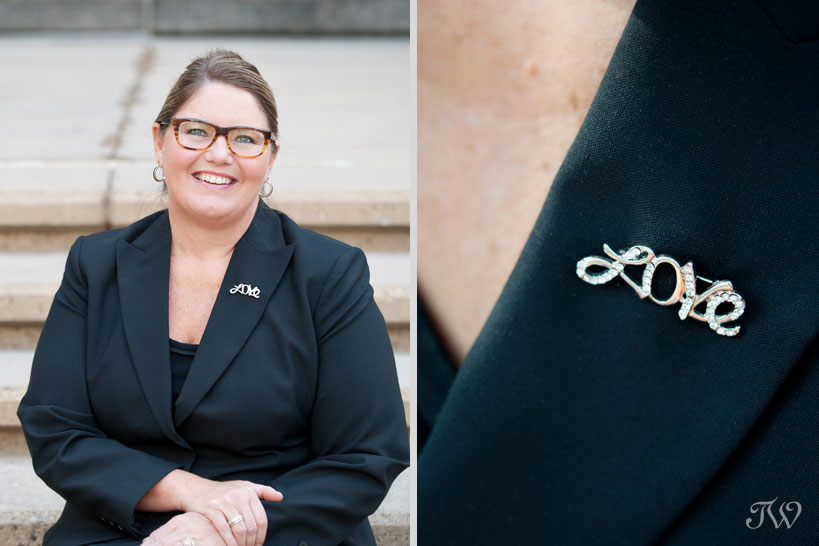 A wedding ceremony is a chapter in a story which tells the past, celebrates the present and looks forward to the future. It is the heart of the wedding.  I encourage my couples to have some fun and be authentic to themselves in the planning of their special day. My goal is to tell a unique story for every couple. Every word is carefully prepared.  Whether they have a clear picture of their ceremony, or they have absolutely no idea, we'll work together to create a meaningful, personal, and magical ceremony that they will never forget.  That includes a simple, but meaningful ceremony, to a ceremony designed to incorporate rituals reflecting their personal faith, beliefs and culture.  I've performed ceremonies in living rooms, grand hotel ballrooms and mountaintops.  I welcome the challenge of creating and working with each couple to write the perfect ceremony that tells their love story.  
If you're planning your wedding and looking for a marriage commissioner, head over to Jacqueline's website.
Here's more from this recent Calgary elopement photo shoot, if you'd like to see.  I also worked with Jacquie at this Heritage Park wedding.
Wedding officiant Jacqueline Hoare captured by Calgary Wedding Photographer – Tara Whittaker