As I scroll through the images from this beautiful editorial shoot, it occurs to me that there's some valuable takeaways for today's bride. If you have a modern sensibility but would still like to add old world charm to your wedding, prepare to be inspired. CNC Event Design planned Vogue-inspired vignettes with the aesthetic of a Paris loft in the 1920s. Here's how you can bring subtle European influences to a Calgary wedding in 2020.

Choose a venue with a past
Because Calgary is a relatively young city, we're a little short on Paris-style lofts. However, what we do have are carefully-restored spaces like Venue 308, Charbar and The Pioneer. These are open and airy venues with original architectural details and lots of historical charm. Banks of factory windows and exposed brick make the venue inviting and the photo backdrops interesting. To get you started, I've compiled a list of my favorite wedding venues.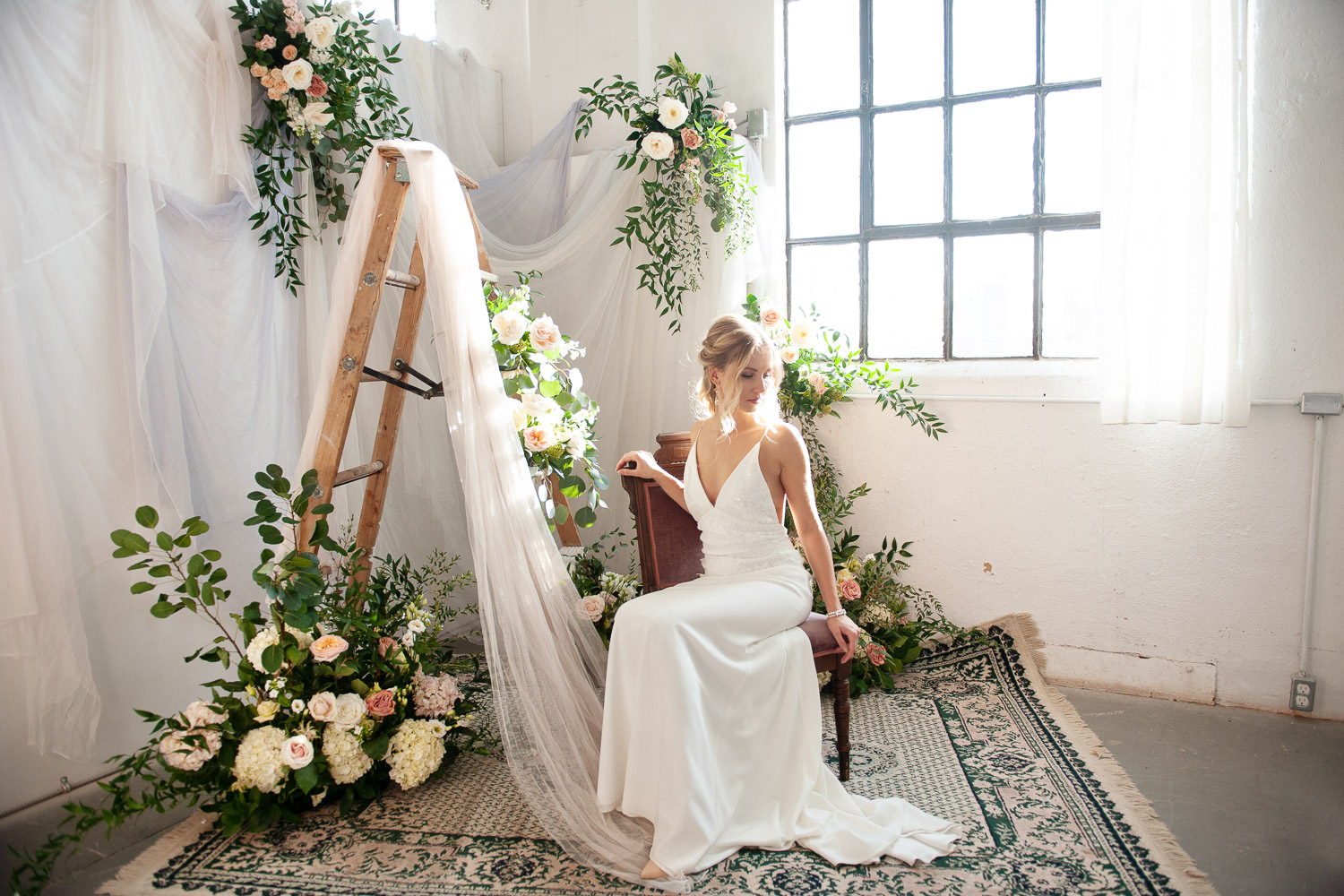 Add vintage furnishings
That day at Workshop Studios, Heather from Orange Trunk brought along several vintage treasures. Signature pieces like her parlour chairs, a ladder or a perfectly chipped door achieve two purposes. Most importantly, they add warmth and character to your wedding. Secondly, they bring visual interest and a fashion flare to your photographs. Imagine photographs of your bridal party, your family and even your wedding cake among well-loved vintage pieces. Orange Trunk's website highlights a curated inventory of rentals available for events.
Consider one-of-a-kind calligraphy
Finally, don't forget your stationery. Debbie Wong is a talented local calligrapher who draws her inspiration from nature, old world architecture and master painters. The invitation suite she created for this shoot was a cohesive blend of contemporary fonts and hand-lettering. For the finishing touch she added a mix of collector-worthy stamps and wax seals. These are the kind of heirlooms that set the tone for your day. I imagine carefully unwrapping them from tissue paper someday to show your grandchildren.
What do you think? Do you feel inspired to add old world charm to your wedding? This same romantic shoot was recently featured on Dear Bride. Pop over and take a look!
It was a delight to work with such a talented vendor team:
Planning & Design: CNC Event Design
Venue: Workshop Studios
Decor & Rentals: Orange Trunk Vintage Styling & Rentals
Textiles: Curated Kits
Florals: Creative Edge
Stationery: Debbie Wong Design
Cake: Modern Bake
Hair & make-up: Avenue Beauty
Bridal gowns: Blush & Raven
Accessories: Joanna Bisley Design
Captured by Calgary Wedding Photographer – Tara Whittaker