This shoot includes several of my favourite things…a Rocky Mountain bride in a pretty blush gown, golden light and snow-capped peaks in the distance. I'm excited to finally share it with you.
3
Rocky Mountain Bride – why choose a mountain wedding?
As I was preparing this blog post, I started thinking of all the things I love about alpine weddings. I've narrowed down a few of the benefits to being a Rocky Mountain Bride:
The views. I'm so lucky to live next door to the magnificent Canadian Rockies and I can't think of a prettier backdrop for an outdoor wedding ceremony. Here's a Canmore ceremony at Rundleview Parkette, if you'd like to see.
Adventure. Calgary is within driving distance to some of the best skiing, hiking, climbing and rafting in the world. If you're travelling from out town to be married in the mountains, there's plenty to entertain you and your guests. You may even encounter some local wildlife. I think you're officially a Rocky Mountain Bride if you spot a bear on your wedding day.
Spectacular photographs. Peaks, lakes and forests make great locations for wedding photos. For this shoot, Shannon and I found the perfect spot on the Bow River in Canmore. It so happens that Shannon and I did encounter a bear during our shoot on the river (refer to #2).
Idyllic wedding venues. Banff, Canmore, Lake Louise and Emerald Lake host some of the finest venues, ranging from cozy and rustic to classically elegant. This past summer, Steph and Sean celebrated with their friends at Cornerstone Theatre in Canmore.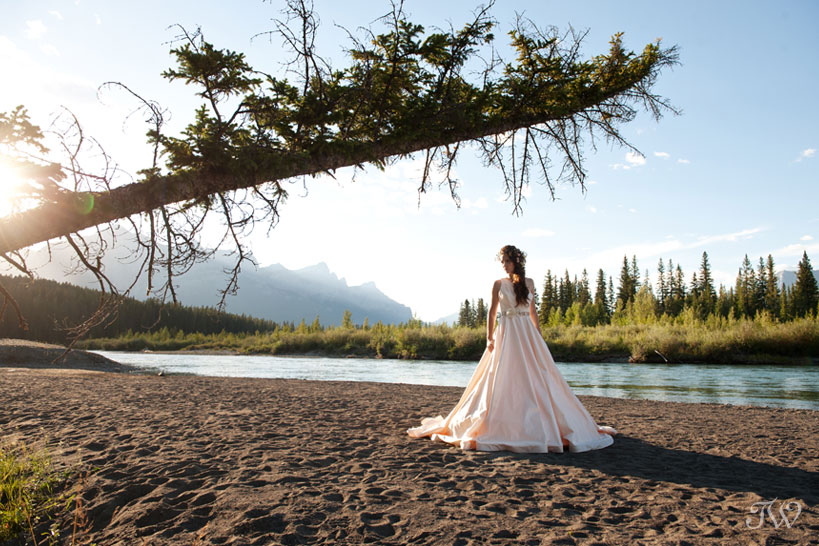 This shoot was part of a summer portrait project and I want to thank everyone involved.
Blush gown: Legends by Romona Keveza from Cameo & Cufflinks in Calgary
Bridal Bouquet: Flowers by Janie
Model: Shannon Kehler
Hair and make-up artist: Erica Piebiak
Rocky Mountain Bride captured by Calgary Wedding Photographer – Tara Whittaker