A globe-trotting couple, a stunning mountain location and a lighthearted autumn ceremony made for the perfect day. I was so thrilled when Janelle and Jody chose me as their Fernie wedding photographer and I'm delighted to share some highlights from their celebration today. As an added bonus, Janelle is adding her thoughts and a few tips and tricks for brides. Enjoy!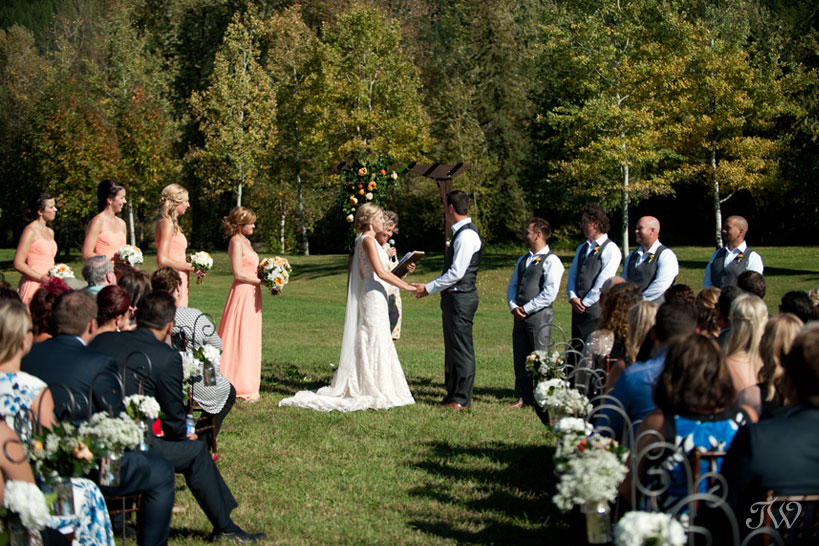 Fernie wedding photographer
From Janelle…so many things could go wrong on your wedding day but it's important to go with the flow and not let it affect the joy of the day. For example, the hook-and-eye on my dress broke while I was getting ready, my wedges literally fell apart while I was walking down the aisle, the arbour almost blew over onto us during our ceremony, and my veil fell out while saying my vows. With all of it we just laughed, sorted it out as best we could and look back on it as funny memories from the day.
From the bride…Jody and I met on the other side of the world and continue to share a passion for travelling together 10 years later. A globe seemed like a fitting choice for our "guest book" as something we would happily display in our home for years to come.
Typically when my husband and I attend weddings we don't see much of each other throughout the evening as I love to dance and he definitely does not. So when I first heard the Lee Brice song "I Don't Dance" it obviously struck a chord with me. We chose this song for our first dance and I can remember the oh-so-cliche feeling of being the only two people in the room, singing to each other "I'd do anything with you anywhere… but I don't dance".
Many congratulations to Janelle and Jody and a big hand to everyone involved in this beautiful wedding. A special mention to Rachel from Mountain Bride. What a treat it was to work with you!
Ceremony and reception venue: Fernie Golf & Country Club
Wedding Planner: Rachel from Mountain Bride
Wedding florist: The Green Petal
Bride's gown: Eddy K
Bride's shoes: Betsey Johnson
Hair stylists (bride & bridesmaids): Sparrow for Hair
Bridemaid's dresses: Donna Morgan
Menswear: Harry Rosen
Wedding Cake: Sarah Crossfield – "Not just a piece of cake"
Decor rentals: Patti's Party Tent Rentals & Celebration Creation
Transportation: Mountain High
A big thank you to my second shooters, Becky & James.
Wedding captured by Fernie wedding photographer Tara Whittaker