Are you newly engaged? Congratulations – what an exciting time for you both! If you're wondering where to start, welcome to Engagement Session 101. Couples often ask if they really need an engagement session and my answer is always a resounding "yes". I appreciate that couples are looking for ways to trim their wedding budgets. Sometimes couples are planning their wedding from a distance and the logistics of an engagement session can be tricky. Let's see if we can find a way to make it happen. Here are 3 reasons to make an engagement session a priority:
Why do an engagement session?
E-sessions are a chance to stop, take a moment and celebrate the reason for the wedding. Chances are, your life is about to become a blurr of planning and Pinterest. I encourage you to pause and take it all in.
Engagement sessions are intimate. While it's true that I'll there with my camera, take advantage of this opportunity to be romantic and sincere. Whisper your hopes and dreams to each other. I can't hear your whispers but my camera catches the smiles that come afterwards.
It will help you relax in front of the camera and it will help me prepare for your wedding day. For most people, professional photo shoots are not an everyday occurance and only a small percentage of my clients are 100% comfortable in front of the camera. During the session, we chit chat and I observe the two of you interacting. By the end, you'll know how I work and I'll know what makes you giggle.
I can assess how much coaching you'll need on your wedding day. For example, if you're shy with showing affection in public, I'll know that you might need a little gentle coaxing at the wedding. Sometimes I notice that couples don't know what to do with their hands. At the wedding I can plan for movement, like walking and holding hands, to loosen things up. My goal is to capture honest moments of joy and doing an engagement session in advance gives us the best chance for success.
Share your excitement with your closest and best (hello Instagram). As you move forward, there are so many ways to use these photographs for save-the-dates, guest books and even wedding decor.
Engagement session 101
As a bonus, here's a few tips for planning a great engagement session:
Be the best version of yourselves. As you plan what to wear, don't be afraid to dress it up. It will make the experience more special.
Brides, I highly recommend having your hair and make-up done professionally on the day of the shoot, even if you prefer a more natural look. Often this can be combined as a trial run with your wedding hair and make-up artist.
Get a manicure and have your ring cleaned. You'll want to show off your engagement ring in photographs.
Finally, a tip from a past bride…"don't forget to brush your teeth". You'll feel more confident smiling and kissing big.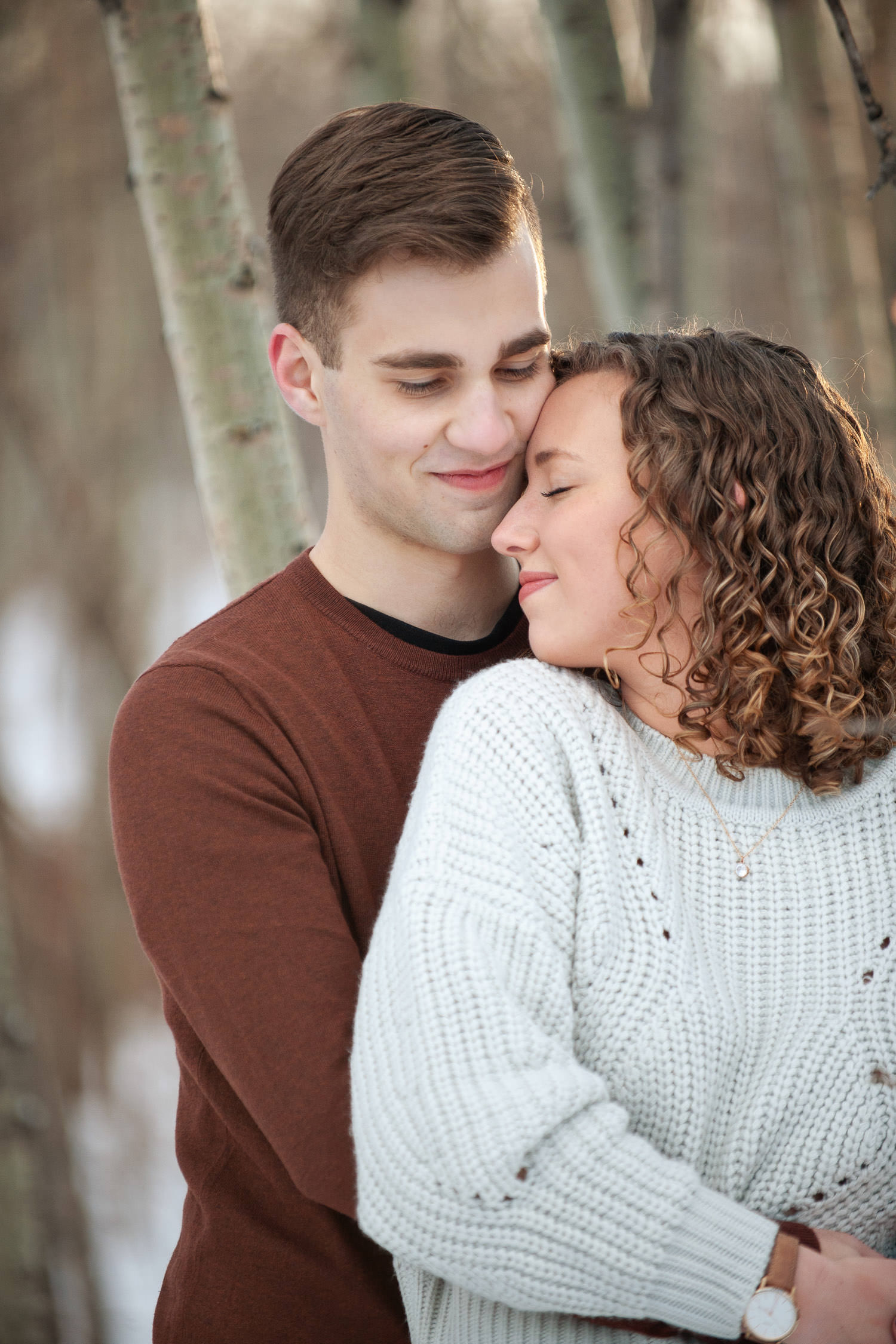 These images were taken last December in Edworthy Park. Here's a spring engagement session at Lake Minnewanka, if you'd like to see.
Images for engagement session 101 captured by Calgary Wedding Photographer – Tara Whittaker