Are you planning a wedding and looking for fashionable downtown wedding venues? There's a new kid in town…Hudson. Located in the Hudson's Bay on Stephen Avenue and operated by Oliver & Bonacini, Hudson is now one of Calgary's most unique and sought-after venues. I'm thrilled to partner with the team at Hudson as they launch what's sure to be a Calgary classic. Here's a peek at their opening night event, Unveiled, so scroll down and take a peek. They truly did pull out all of the stops.
Thank you to the marketing team who answered a few of my questions about throwing a wedding at Hudson.
All about Hudson
Tell us about Hudson and how it came to be be
Hudson has been in the works for a long time! Oliver & Bonacini (O&B) has a long-standing relationship with Hudson's Bay. We've already seen great success with Arcadian, our other event complex with them in downtown Toronto. It's been roughly seven years since we started talking about expanding to Calgary. It finally came to fruition with the opening of The Guild in July 2016, Sub Rosa in September 2016, and now Hudson. We always envisioned creating a modern yet versatile and customizable space that could lend itself to anything from corporate breakfast meetings to product launch parties to elegant weddings.
It was a treat to work with my friends at One West Events, who made this innovate space both modern and glamorous on opening night.
What are some features that make Hudson unique?
Hudson is a modern, state-of-the-art space housed inside of a historic building. Other features like the large windows and natural light, stunning views of downtown Calgary, and urban accents add a lot of charm to Hudson. On top of all of that, the food and service from Chef Ryan O'Flynn and O&B is second-to-none.
Looking for downtown wedding venues?
Describe your ideal couple
First and foremost, we're in the business of hospitality, so every type of couple is welcome! That said, we love working with couples who are passionate about planning an amazing wedding. We know that your wedding is a reflection of yourself, so we want to do everything we can do bring your vision to life. And, of course, we get excited about working with couples who appreciate outstanding food and drink!
Menus at Hudson
Tell us about the menu options that are available to wedding couples.
All of our menus are chef-driven and seasonally inspired, using local ingredients wherever possible. We offer more than 40 types of canapés, from truffle mac & cheese to mini beef & Yorkshire pudding sandwiches, as well as a range of customizable plated lunch or dinner menus. We also offer a selection of menu enhancements for those who want to go all out, like family-style platters and intermezzo to cleanse the palate. For reception-style weddings, we offer more than 20 different types of interactive food stations. These include a freshly shucked Canadian oyster bar, butter-poached lobster mac & cheese, and carved Alberta lamb chops. Finally, for those partying 'til the wee hours of the morning, we have tons options for late night food, like "Hangover Helper" chicken soup and Southern fried chicken! Of course, there are lots of vegetarian and gluten-free options to choose from – so no one gets left out.
Any personal favorite items from the menu?
We're partial to the O&B mushroom soup – it's a classic! We also have a guilty pleasure for poutine.
Are there any openings for couples getting married in 2017?
If you're looking for downtown wedding venues, we have several dates available for Summer, Fall and Winter.
Any message you would like to pass along to couples looking for a wedding venue?
It can be a very overwhelming process so here's what we'd recommend. Start planning early, the key dates at top venues book up sometimes a full year in advance. Come prepared with questions, the more the better. Don't be afraid to ask about all up costs or a referral from another bride who has been married there. Lastly, trust your gut. Think about the people you are meeting with, the feeling you get from the venue and try to picture if it will be right for you on your big day.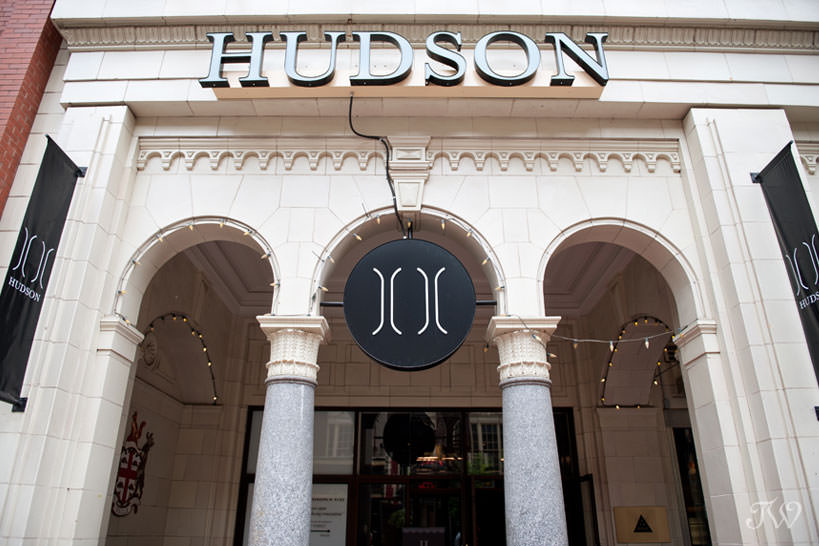 I'm definitely looking forward to my first Hudson wedding. For more information, contact the Senior Event Specialist at Hudson.
Downtown wedding venues captured by Calgary Wedding Photographer – Tara Whittaker