Over the past few weeks, I've spent several evenings meeting with my recent couples to reveal their wedding photographs (one of my favorite things btw). As we visit, the topic of Christmas pops up and I learn about their holiday plans and Christmas traditions. Some are travelling to somewhere tropical, others are hosting big family dinners and one couple bought Christmas pajamas for a cozy Christmas Eve together. What an exciting time for them as they celebrate and create new family traditions…traditions that they can continue through the years.
I teamed up with Sharon from Naturally Chic on a series to inspire couples to start their own Christmas traditions and soak in the romance of the holidays.  To begin the series, here's three fun ideas (with a Calgary flare).
Kick off your evening with a holiday cocktail.  The casual yet chic Bar C on 17th Avenue tops our list as the perfect spot to toast the holidays and sample plates designed for sharing. The Burnt Old Fashioned, complete with a toasted orange slice, is my personal favorite beverage. Cheers!
Enjoy an intimate dinner with the one you love.  The Lake House is a spectacular setting at any time of year but they have "decked the halls" for Christmas and upped the romance factor. We recommend a dinner for two near the crackling fire in the grand fireplace, while dining on Pan Seared Black Cod or Grilled Alberta Beef Tenderloin (to name a few of their specialties).  Complete your experience with a holiday favorite, sticky date pudding topped with honey ginger ice cream.
If you're anything like me, you love watching your loved ones open their gifts as much as you love receiving them.  Why wait until Christmas morning?  Give your love one small, yet sentimental gift on Christmas Eve and see their face light up.  Sometimes the best gifts don't cost a thing but are thoughtful and handmade.  Consider a custom playlist, filled with holiday tunes you both enjoy.  Finish your evening on a high note!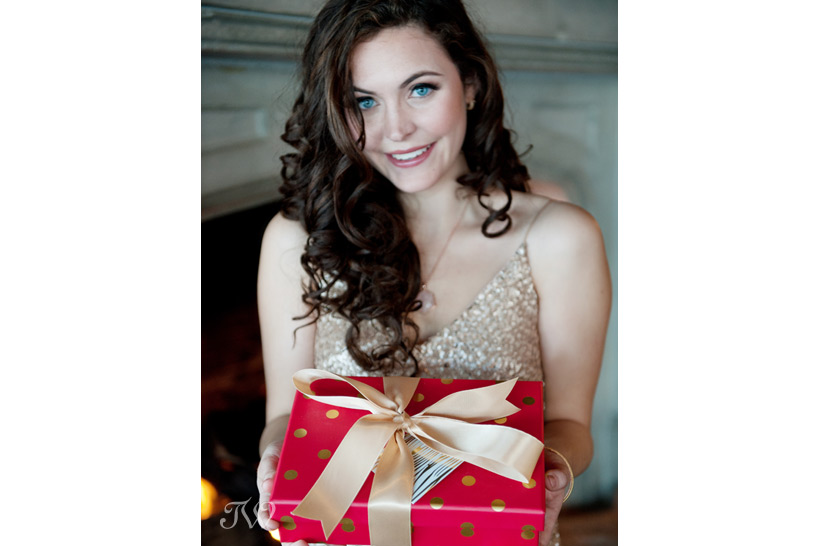 It was a treat to start this series as a guest blogger on Canadian Mountain Chic.  This coming Monday, Canadian Mountain Chic will be featuring Christmas traditions Part 2…mountain style.  Be sure to check it out.
Designer & Stylist:  Sharon from Naturally Chic
It was a pleasure to team up with CRMR and two of their Calgary properties The Lake House and Bar C
Men's attire:  Ed Williams Menswear
Women's attire:  Adorn Boutique
Hair & Make-up artist:  Brooke from Diva Salon Spa
Flower Arrangement:  Flowers by Janie
Wood slice:  Naturally Chic
Christmas traditions images by Calgary Wedding Photographer – Tara Whittaker