Bonnie and Jason's wedding was a very special one indeed and I was so thrilled to be part of it. Had they not asked me to photograph the wedding, I would have begged and pleaded. Luckily they did ask me.  Bonnie is a dear friend of mine that I have known, worked with, travelled with, been neighbours with…..anyway, I love my Bonnie. She and Jason were married on perfect summer day in August. This is just the first of three posts on this wedding as there were too many great photos to choose from. First up, the beautiful Bride, on her way to St. Joseph Parish to marry her true love.
I'm a sucker for pretty wedding details and there was no shortage of pretty at this wedding.  I love the vintage beaded bag Bonnie carried.
Bonnie's bridal posse, her three nieces.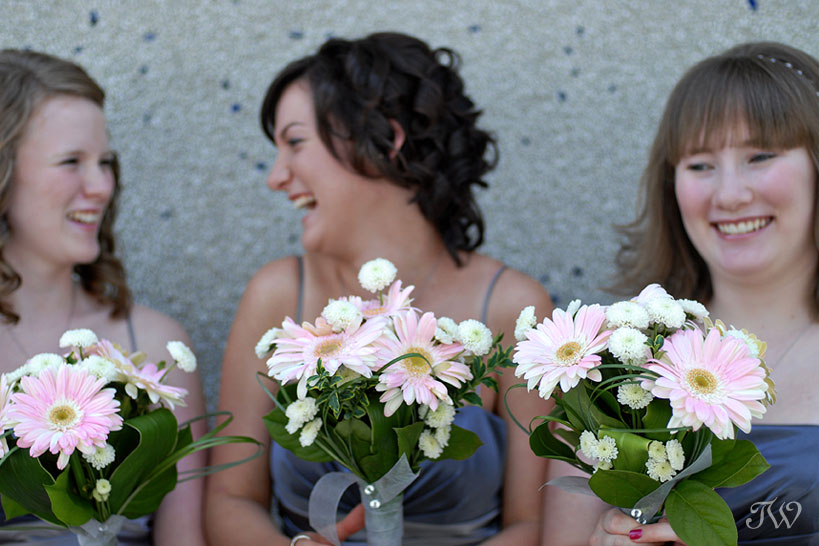 Bonnie and her Mama before the ceremony…one of my favourite Mom and Daughter shots of all time.
Calgary wedding ceremony photography
A few shots outside the beautiful brick church in Mount Pleasant.
The handsome groom
Here's Bonnie and Jason's winter engagement session in Nose Hill Park, if you'd like to see.
Stay tuned for more images from Bonnie and Jason's wedding and their lively reception at St. Vladimir's Ukrainian Cultural Centre.
Calgary wedding ceremony photography:  Tara Whittaker Photography