I was so pleased to take Kari and Derek's Calgary Engagement Photographs.  They were engaged just as the latest version of "The Great Gatsby" was released. As a fashion blogger, Kari had a great appreciation for the fashions of the 1920's. The inspiration for their engagement session came from Chapter 5 of F. Scott Fitzgerald's novel, where Daisy and Gatsby are reunited at afternoon tea. In the scene, a desperate Gatsby pulls out all of the stops and fills the room with flowers, in order to win back an unsuspecting Daisy.
With this scene as a starting point, we took advantage of the lilacs that were blooming and bathed the room in blossoms. Kari wore a drop waist tea dress from Zara and added vintage accessories. Her hair was fashioned in a (faux) bob, the defining haircut for women of the era. Derek was definitely dapper in a crisp, seersucker suit from Banana Republic.
I can't wait to photograph this fantastic couple at their Kelowna wedding next summer!
Kari is going to make such a beautiful bride!!!
The handsome Derek!
And speaking of Derek, hmmmm….I'm just sayin'
A beautiful creation by Cakeworks
Because it's a Gatsby shoot, there had to be a gramophone. This vintage treasure is from the inventory of Blush Vintage Rentals.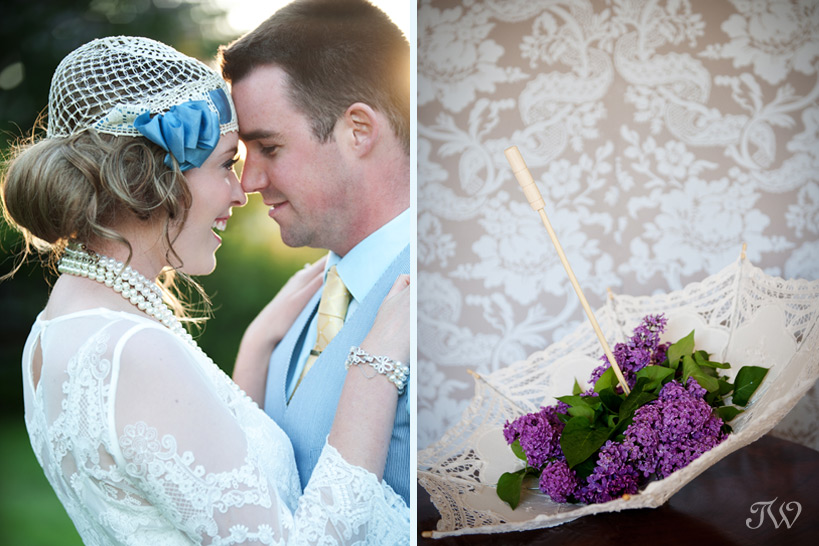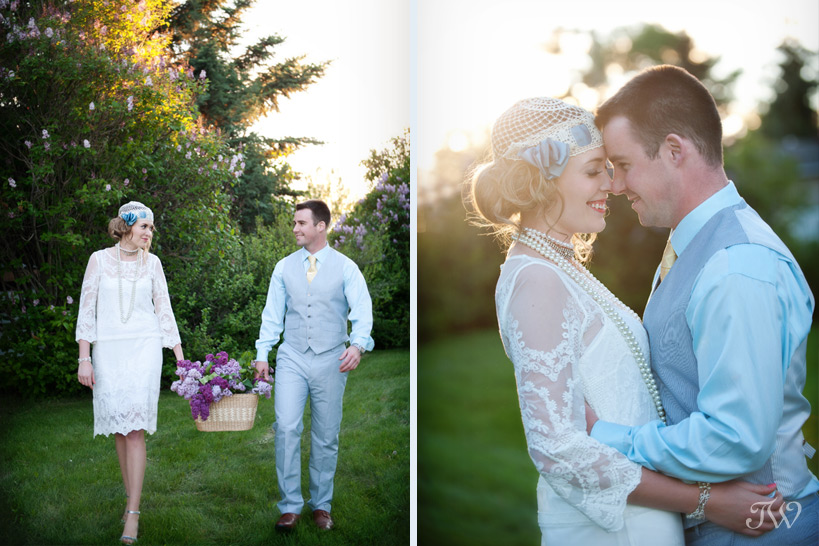 Kari's lace dress came from Zara but that hat is 100% vintage, from A Vintage Affair. I love that the blue, silk ribbon is original from the 1920's.
Calgary Engagement Photographs:   Tara Whittaker
Styling: Tara Whittaker
Bride's Dress: Zara
Bride's Hat and Accessories: A Vintage Affair
Bride's Shoes: Nine West Canada
Bride's Hair and Make-up: Jordan from Artists Within
Groom's Suit: Banana Republic
Groom's Tie: The Bay
Groom's Tie Clip: A Vintage Affair
Groom's Shoes: Aldo
Vintage Umbrella & Gramophone: Blush Vintage Rentals
Cake: Cakeworks
Linens: Great Events
Many thanks to Riley, my awesome assistant that day!